Other products

Low Pressure RF Sputtering System
It is also possible to form a thin film on a 10-2Pa pedestal through the use of a sputtering gun compatible with high vacuum.

Micro Chamber
After setting a substrate for measurement in a small chamber, it is possible to introduce and heat the evacuating gas. Furthermore, it is also possible to make an observation through a window for observation at the upper of the chamber.

RHEED (Model: RHP-307)
The magnetic field deviation function and the beam axis adjusting function by means of the bellows are built in. A piping mounting port to enable the differential pumping at the filament portion can be added as an option.
■Max. accelerating voltage: 30kV
■Mounting flange: ICF70 or ICF114

Camera Box for RHEED
A dark box for a RHEED screen. CCD cameras and digital cameras can be attached.

Access Door
A hatch for taking out and putting in substrates. Can be attached to a load lock chamber.



Gas Flow Simulation Entrusted Analysis Service
We help customers to carry out their experiments through the use of three-dimensional thermal fluid analysis (CFD) software.



Multipurpose Annealing System (At-50)
Can be made a multipurpose annealing treatment. Through a manual transfer rod, it is possible to take out and put in the specimens into the heating portion in a short period of time, thus raising/lowering the temperature at high speed.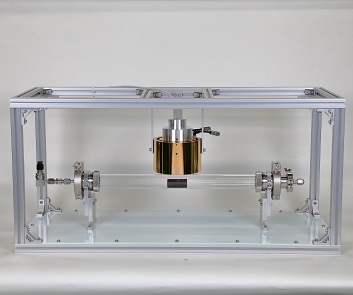 Small Light Condensing Heating Furnace
In combination with a quartz tube compatible with vacuum and a light condensing type lamp, it is possible to provide an inexpensive and full-fledged high-speed temperature rising/lowering process. Can be heated up to 1400℃.